Check out a promo clip from The Greatest Adventure Stories from the Bible Series on YouTube!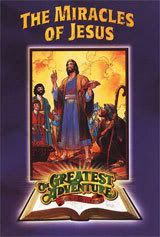 There are also 5 DVD singles for 5 other episodes out of this 13 episode series. There is, also, a
5 DVD pack which included all 5 episodes on 5 DVDs
. Be sure to check them out!
All 5 Episodes in a 5 DVD Pack
Episode 2 - Noah's Ark - Single DVD
Episode 4 - Moses - Single DVD
Episode 7 - David and Goliath - Single DVD
Episode 12 - The Miracles of Jesus - Single DVD
Episode 13 - The Easter Story - Single DVD